Hello everyone, my name is Patty. I'm an intern from Indonesia but I'm currently studying in Japan (Ritsumeikan Asia Pacific University). It is currently my 5th week here in Kannonyama Fruit Garden that I've become so used to living in the countryside. It was sunny today and I managed to take some good pictures (you should too)!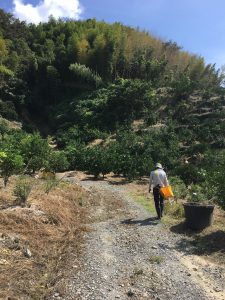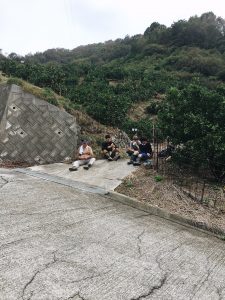 I came here with the intention of improving my Japanese language skills and to learn about agricultural business management. As you may know, interns can work in the field, packing/sorting, factory, office or in the parlour; the latest addition in Kannonyama Fruit Garden. Most of the time I work in the field, but as I would like to learn different aspects of the business, I asked the staff to let me visit every place and I did! *Yay*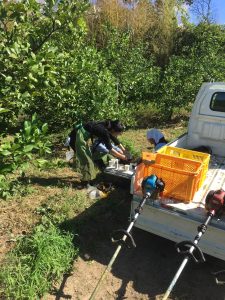 Not all kinds of work are allowed to be done by interns, so I asked lots of questions about practically everything instead. The staff always try their best to answer my questions, even though sometimes it is difficult to communicate with a person whose Japanese is broken (a.k.a me). The people I met here are just the kindest and the sweetest, including my housemates in shataku (company's house). I got a chance to share the house (plus food) with 9 other interns, which I'll miss for sure.
Before coming here, I thought I would get more fit by working outdoors often. If you happen to have the same thought, I am sorry. It is a lot easier to plump yourself here, as Kaichou will try to do so since your first day. He occasionally takes us out to dinner or asks the parlour's staff to give us parfaits and whatnot. One time he came to shataku at night to bring us a two containers worth of Nachurun (drinking jelly), just out of a small talk where someone mentioned that we are running out of it. It happened on my first week here and we are still trying to finish the jelly until this day.  
Apart from food, Kaichou also likes travelling. He took us to Kōyasan (Mt. Kōya) one day after work, out of the blue. In a barbecue we had, he said that he wanted to have a trip with the interns and trainees, but, he had not decided when. About 3 days later, he visited us in shataku and showed an e-mail of the hotel bookings. Although most plans are sudden, it has been fun!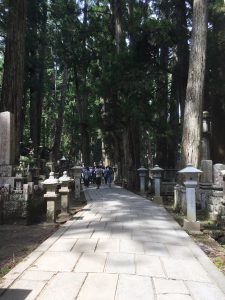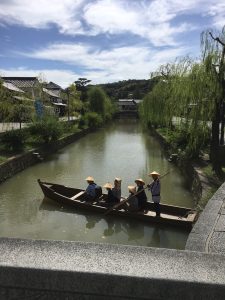 By the way, Kaichou just gave me a pack of saba sushi as I am writing this. "Do you like sushi? Here." So, I guess you got the picture? 😛
All in all, I have been enjoying my time in Wakayama. Some days were tough, either physically or mentally (or both), but there is always something new to learn from each day as I embrace the different experiences. I am thankful that the company is glad to help me learn and grow as well 🙂
Wish you (future interns ) the best, good luck!
(Bahasa Indonesia)
Halo semuanya, nama saya Patty. Saya mahasiswa magang dari Indonesia, tapi sekarang sedang kuliah di Jepang (Ritsumeikan Asia Pacific University). Minggu ini adalah minggu ke-5 saya di Kannonyama Fruit Garden, dan saya sudah sangat terbiasa tinggal di kota kecil ini. Hari ini cerah dan saya pergi mengambil beberapa foto (kamu juga yah)!
Saya datang kesini dengan niatan meningkatkan kemampuan Bahasa Jepang dan belajar tentang bisnis agrikultur. Seperti mungkin kamu ketahui, siswa-siswi magang disini bisa kerja di kebun, pengepakan/pemilahan, pabrik, kantor atau di kafe; yang merupakan tambahan terbaru di Kannonyama Fruit Garden. Saya hampir selalu bekerja di kebun, tetapi karena saya mau mempelajari macam-macam aspek dari bisnis ini, saya meminta staf yang bertugas untuk mengijinkan saya bekerja di semua divisi, dan saya sudah melakukannya! *Hore*
Tidak semua pekerjaan boleh dilakukan oleh peserta magang, jadi untuk itu saya banyak sekali bertanya. Staf disini selalu memberikan yang terbaik untuk menjawab pertanyaan-pertanyaan saya, meskipun kadang sulit untuk berbicara dengan saya yang Bahasa Jepangnya tidak fasih. Orang-orang yang saya temui disini sangat baik dan ramah, termasuk teman-teman seasrama perusahaan. Saya berbagi asrama perusahaan dengan 9 orang peserta magang lainnya yang akan saya sangat rindukan.
Sebelum datang kesini, saya pikir saya akan tambah sehat dengan bekerja banyak di kebun. Kalau kamu juga berpikir demikian, maaf ya. Lebih gampang untuk menggemukkan badan deh, karena bapak pemiliknya akan selalu berusaha supaya para karwayannya gemuk. Bapak pemilik kadang-kadang beliau akan mengajak kami pergi makan malam bersama atau meminta staf di kafe untuk menyunguhkan kami parfait dan lainnya. Suatu waktu, beliau datang tiba-tiba di malam hari dan membawa dua kotak berisi Nachurun (jeli minum), hanya karena ada seseorang yang bilang kalau di asrama sudah tidak ada jeli. Itu terjadi di minggu pertama disini dan kami masih berusaha menghabiskannya.
Selain makan, bapak pemilik juga suka jalan-jalan. Beliau pernah mengajak kita ke Gunung Koya sepulang kerja. Di satu acara barbekyu, beliau merencanakan karyawisata magang yang belum ditentukan kapan. 3 hari kemudian, beliau datang ke asrama perusahaan dan memperlihatkan semua pemesanan hotel. Meskipun banyak rencana mendadak, waktuku disini menyenangkan. Baru saja ketika saya menulis ini, beliau datang dan membawakan sushi ikan makarel. "Kamu suka? Ini". Jadi, mengerti kan seperti apa orangnya? 😛
Intinya, aku sangat menikmati waktuku di Wakayama. Beberapa hari sangat melelahkan,secara fisik dan mental, tetapi, selalu saja ada sesuatu yang bisa dipelajari dari itu ketika saya merangkul semua macam pengalaman. Saya juga bersyukur perusahaan ini memberikan kesempatan untuk saya bertumbuh dan berkembang.
Untuk peserta magang berikutnya, saya doakan yang terbaik, semangat!