Kannonyama Fruit Garden is located in Wakayama Prefecture - an area often referred to as Japan's 'fruit kingdom'.  With ideal conditions, Wakayama produces more fruit than anywhere else in Japan and has become well known for its premium fruit both domestically and internationally.
Wakayama is located on the south coast of Honshu island, bordering Osaka, Nara and Mie prefectures and has a warm climate year-round. Dotted with rugged mountains and historical treasures, there's plenty to explore in Wakayama.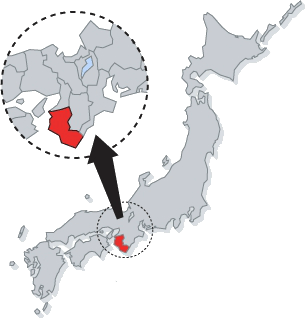 Mount Kōya (Kōya-san / 高野山) is a mountaintop monastery town with haunting beauty and an intriguing history. Regarded as the birthplace and headquarters of Shingon Buddhism, Mount Kōya is a monastic centre and one of Japan's most sacred sites, earning it a spot on the UNESCO World Heritage List. 
The holiest location in Kōyasan is considered to be the mausoleum of Kobo Daishi, the founding monk of Shingon Buddhism. Lining the 2km path to this mausoleum is Japan's largest graveyard, Okunoin Cemetery, comprising of more than 200 000 tombstones and memorials. Set amongst a towering cedar forest, this cemetery is both eerie and breathtakingly beautiful. 
High in the mountains and surrounded by stunning National Park, Kōya-san is something to behold for believers and non-believers alike. Offering immense natural beauty and rich history, a visit to Kōya-san is a unique experience not to be missed.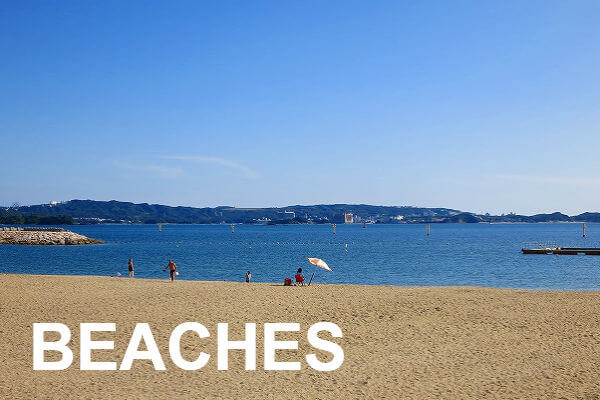 Offering the best beaches in Kansai, Wakayama is bordered by the Pacific Ocean and has over 600km of coastline. There is Kataonami Beach in the north and Tanabe Ogigahama Beach and Shirahama Beach in the south just to name a few. Wakayama has a mild sub-tropical climate so these beaches can be enjoyed much of the year.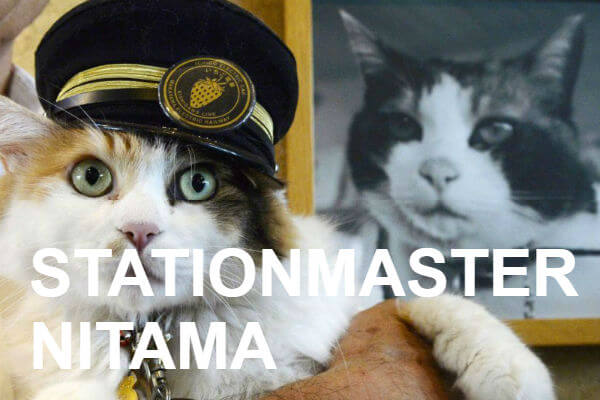 The official station master at Kishi Station, Wakayama, is a white, black and brown Calico cat named Nitama.
Nitama is the 2nd cat stationmaster at Kishi Station, successor to the role after the passing of the much-loved Tama. Nitama is an adorable and relaxed feline whose primary duty as stationmaster is to greet passengers from her office as they come by. A popular tourist attraction, visitors can see and take photos of the esteemed stationmaster as well as check out the cute cafe, souvenier store and several Tama-themed trains.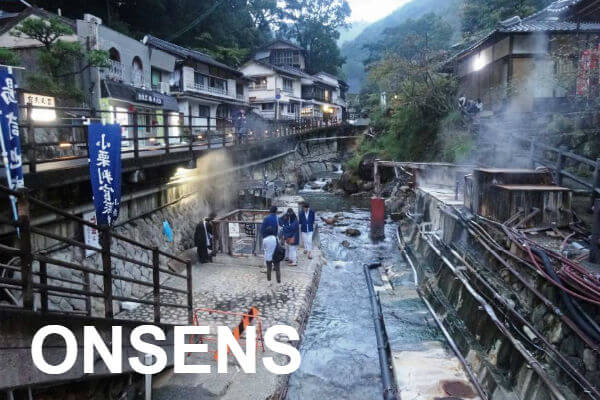 Wakayama is awash with geothermal hot springs and is known for its abundance of onsen retreats. Hot springs, or 'onsens' (温泉), have been a big part of Japanese culture for centuries, believed to have healing powers due to the water mineral content.
Onsens range from open-air pools to foot spas and can be found at hotels, traditional Japanese inns (ryokans/旅館) or you can even dig your own. Kawayu Onsen is located on the Oto River in the south-east of Wakayama, and there bathers can soak in the crystal clear river water while enjoying the natural surroundings...for free! Wherever you go, there's no doubting that indulging a day or two at an onsen will leave you feeling soothed and refreshed.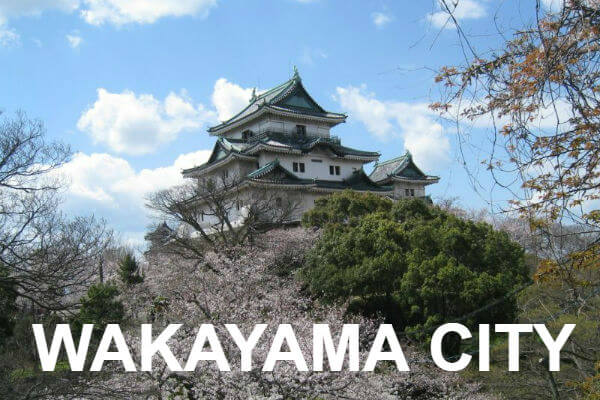 Wakayama City is the capital city of Wakayama Prefecture, on the northern edge of Wakayama nearest Osaka. The city is bordered by mountains on one side and sea on the other and is home to 40% of Wakayama's population. 
Wakayama Castle: In the centre of the city atop a hill is the famous Wakayama Castle (Wakayama-jō), a historic landmark from feudal times originally constructed in 1585. Visitors can walk around the beautiful building and take in the magnificent views of the city form the top level. It is especially impressive when the surrounding cherry blossoms are in bloom. 
Marina City: On the ocean's edge is Marina City, a place famous for its fresh seafood and fruits. Within Marina City is Kuroshio Market, a fish market where you can eat and buy fresh fish brought straight from the ocean. Visitors can also watch one of the 3 free daily tuna-cutting shows where a giant tuna is skilfully prepared before an audience. Next to the fish market is a small theme park, Porto Europe, where guests can enjoy the European-inspired architecture, shops, cafes, roller coasters and other amusement attractions. 
Awashima Jinja Shrine: Awashima Jinja is a shrine famous for its collection of dolls. Thousands of dolls are on display in this tiny shrine, huddled together on the altar in a sea of faces. The shrine is dedicated to women, and many come to pray on matters such as childbirth and fertility.